summer course - partially online and partially in barcelona!
loco for local - sneaker edition
Design, produce and sell your own sustainable sneakers within 4 months!
Attention: this course is full!! We will announce extra dates soon, we have been overwhelmed by the number of applications, so we will try to accommodate more people!

Would you like to spend your summer holiday in beautiful Barcelona and change the sneaker game while you are there? Then this is the course for you! This program is a groundbreaking combination of 10 weeks of part-time online classes - during which you will learn how to create your 3D sneaker designs - and 10 full days of high-tech sneaker making and selling in our Footwearology Lab in Barcelona!

The focus is on creating sneakers that are as sustainable as possible, so instead of just creating fully new sneakers, you can also choose to start from existing sneakers and find industrial, scalable ways to upgrade them, using new technologies such as knitting and 3D printing. It is not a "pimp your sneaker" course though, we focus on creating solutions that can be done at scale, so we can have a real impact.

This format is ideal for people who already have a design background. We will tailor the program to your individual needs, giving you access to some of our other online courses if you need them. For instance, if you still need to learn 3D design, you could do Rhino or Blender, or if you are already experienced in 3D but need Grasshopper to bring your ideas to life, then you can follow those classes for the duration of this program.

There is a maximum of 10 participants for this course, since it involves a lot of personal mentoring and making. The early bird offer has expired, but if you enroll before March 31, then you pay only 1750 euros. There is an option to pay in installments.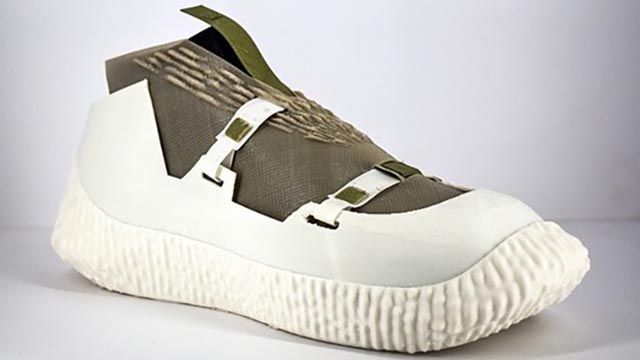 Top shoe designed by Philippe Holthuizen of Fused Footwear and bottom shoe designed by Lorenzo Masini, our Rhino instructor. These are examples of the kinds of shoes you could create, but of course there are many more options.
The images below give an indication of what kind of shoes you could learn to make during the course. Options are endless; we are striving to use only recycled plastics and of course you are able to use natural materials wherever possible. There will be a strong focus on design for disassembly and repair and on mono-material shoes.
Are you as frustrated as we are with the current situation in the sneaker business? There are a lot of brands that talk the talk, but very few who also walk the walk when it comes to really making sneakers more sustainable. They might add some recycled or biobased materials to their sneakers, but they are still mass manufactured in Asia, creating waste, excess stock, a large transportation footprint and constructions that cannot be repaired nor disassembled for recycling!
What many people do not realize, is that mass manufacturing and automation have made the construction of sneakers much simpler than ever before. You do not need many machines nor a large factory to make sneakers at all and you also do not need to glue or mold all parts together, there are many ways we can use innovative technologies to create sneakers that are modular, for instance.
So next spring, we are launching a groundbreaking course that will help sneaker designers become sneaker entrepreneurs. We will teach you how to design sustainable sneakers that can be produced on demand, using a few key technologies, such as 3D design, knitting and 3D printing.


You will then spend 10 days at our Footwearology Lab in Barcelona to produce your sneakers AND sell them in our Footwearology Lab Store, which is attached to the lab. We are in Poblenou, the hippest area of Barcelona and there is nothing better than interacting directly with your audience.
Even though our lab is not open until April 2022, we already have weekly classes for several universities in Barcelona who send students to learn knitting from Jordi Montaner every Friday. He will also be teaching and mentoring the knitting for this summer course!
In the "Loco for Local" course we will teach you how you can make fantastic wearable shoes using only a few machines, such as our Artillery Sidewinder X2 printers that are only about 400 euros each! The example below is wearable as such - it is nice and bouncy, not rigid - but will also still get a knitted upper added to it, without using any glue!
Course Format: combo of online and in-person
For 10 weeks, from April 23 to June 25, you have 2 hours of online class, each Saturday afternoon from 4pm CET – 6pm CET. These hours make it doable for as many time zones as possible to join, even for people who work fulltime during the week. We do require you to join these classes live as much as possible. They are recorded, but interaction with your teachers and with your fellow students is essential.


The first 3 weeks you learn all about sneaker sustainability and the footwear technologies and materials that are at your disposal.
The next 7 weeks are spent on ideation and design. Depending on the sneaker you want to make, you will be able to follow classes from any of our other online courses.

For instance, if you have never done 3D design, you will be able to follow Botcha, Blender or Rhino. If you already have experience in 3D, you could study Grasshopper for more advanced applications.


Important: you will get about 4 hours of homework per week, since this is an intensive course.
After these weeks you have several ideas that you will try out - and tweak if necessary - in Barcelona, where we have all the machines you need, such as a professional footwear knitting machine, 3D printers, sewing machines etc. We also partner with labs in the neighborhood that have other equipment, such as CNC machines and laser cutters.
On the final 3 days of the course, the store opens and you will be interacting directly with your audience who can order your shoes on demand.

To make sure that everyone will be able to get enough personal attention and time on the machines, we are splitting the class in two groups.
The first group will come to Barcelona from June 27 to July 9 and the second group will come from July 11 to July 23. Upon enrollment we will contact you to ask for your preferred dates in Barcelona. We will divide the groups on a "first come, first served" basis, so if you can only make it to Spain in one of those time brackets, then please reserve asap.

You will also make cost calculations, determine your sales price and your marketing and work on the store presentation. On the final days of the course, on July 7, 8 and 9, the store opens and you will be interacting directly with your audience who can order your shoes on demand.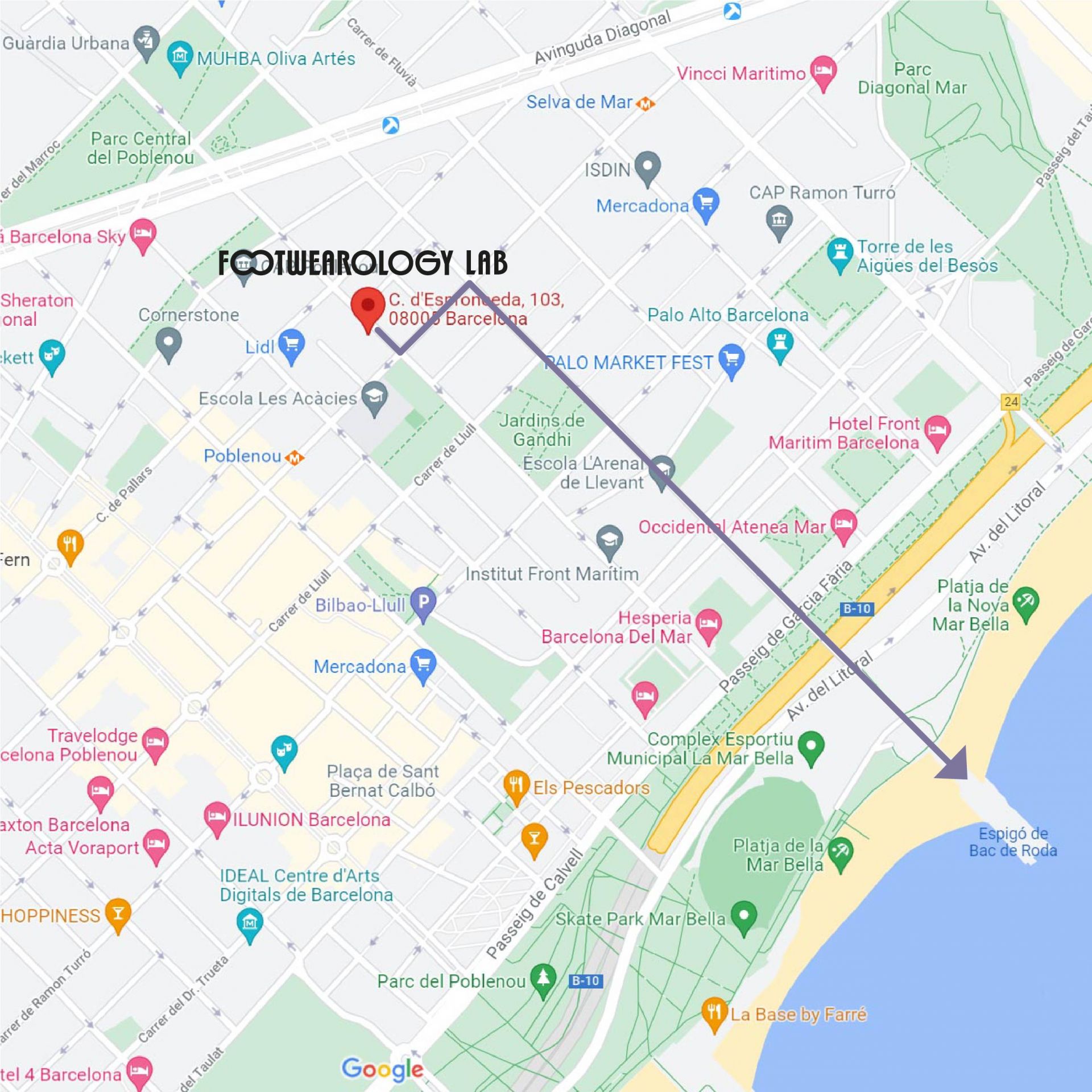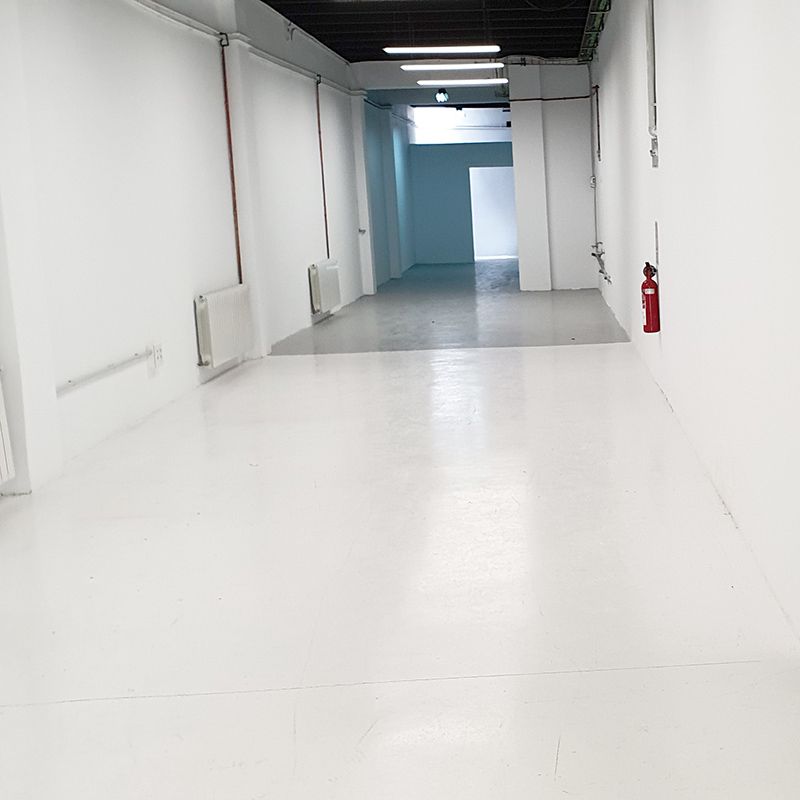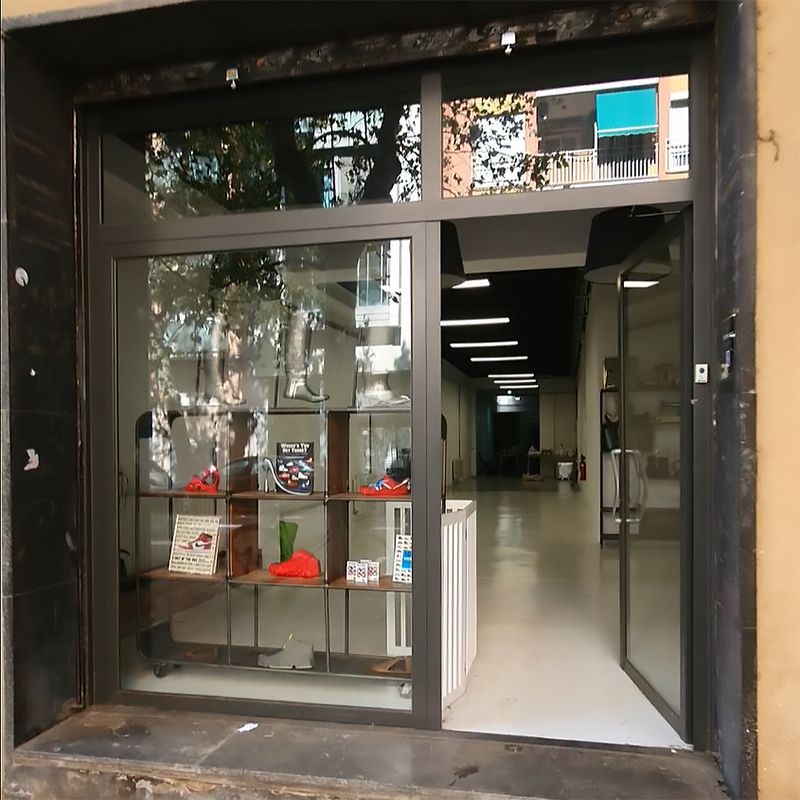 only 8 minutes from the beach!
Our lab is brand new and practically empty, since we are still building up; we will open in April of 2022. We are in the center of Poblenou, the hippest area of Barcelona and the "Silicon Valley of Southern Europe"! We are surrounded by high-level maker labs and other amazing tech companies that we will also collaborate with for the courses. Poblenou is directly at the beach; you can just walk there within 8 minutes. This part of the beach borders the biggest skate park of Barcelona, so this is a thriving neighborhood for sneaker culture!
10 online classes of 2hrs each

access to our other online courses if needed

personal mentoring by Footwearology faculty

full use of the equipment at Footwearology Lab

use of materials available at Footwearology Lab

any money made with the sale of your sneakers

flight to Barcelona, travel insurance

accommodation, food & beverage in Barcelona

daily commute to the lab

any materials you need for your sneakers other than what we have in the lab

any presentation materials you want for your sneakers, other than what we provide in the lab
Course audience
This course is meant for people who already have a background in design, for instance because they have graduated from an industrial or footwear design program and/or have experience working as a designer. Experience in footwear certainly helps, but is not mandatory, however, this is not a course for absolute beginners, so if you have never done any kind of design, then this is not for you.

We also require people to be at least 21 years of age; there is no upper limit to the age of participants.
Normal text.
Covid precautions
We fully expect that Barcelona will be open for visitors in the summer of 2022, just like it was this year. If you are not able to join the physical part of the course because of Covid regulations that we cannot foresee now, then we will offer you an alternative. We can either look at alternative dates or we could make the sneakers in the lab for you.

We will of course require all participants to respect any Covid regulations that are in effect in Barcelona. Currently, wearing a mask is required indoors.
Course schedule
| | | |
| --- | --- | --- |
| Online class 1 | April 23 | What are the hurdles in making shoes sustainable? |
| Online class 2 | April 30 | How to design shoes with multiple lifecycles |
| Online class 3 | May 7 | Rethinking footwear construction for local manufacturing |
| Online class 4 | May 14 | Design reviews first design projects |
| Online class 5 | May 21 | How to use 3D design to optimize your design workflow |
| Online class 6 | May 28 | How to use 3D printing for local manufacturing |
| Online class 7 | June 4 | How to use knitting for local manufacturing |
| Online class 8 | June 11 | First design review of the sneakers you want to produce in Barcelona |
| Online class 9 | June 18 | Guest lecturers that make shoes for local manufacturing |
| Online class 10 | June 25 | Final design reviews before the start of the making weeks. |
Making weeks in Barcelona: June 27 - July 9 or July 11 - July 23
Barcelona is not just a paradise for architecture, street art, beach life, soccer, delicious food and wine, but also for maker labs, urban micro factories, parametric design and many other innovative technologies! We will make several visits during the course and there will also be enough time to experience the local food and culture! We could not think of a better way and better place to spend the summer!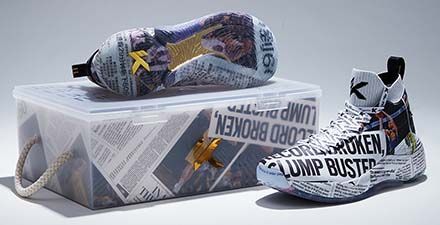 Subscribe now
Get exclusive news