online course - LEVEL: intermediate/advanced
Lattice Design in Grasshopper
Live online workshop: December 12, 13 and 15
each day from 19:00 - 22:00 CET
We have been actively 3D printing shoes and midsoles for a long time now and those of you that follow us, know that we have been very critical about how lattices are currently used in midsoles and other footwear parts. In our opinion, if they are not personalised in any way, the consumer will fail to understand the purpose of lattices and just see them as an aesthetic, or even a nuisance, since dirt can easily get inside.

We have now turned our criticism into a groundbreaking course that will teach you a smooth workflow in Grasshopper to apply lattices in a way that adds real value and optimal wearability. There are 3 classes, each of 3 hours, that will be given live online by our "lattice lover" Luis Bugin. After the course you will have access to the recordings for a duration of 12 months.

We are fully aware that there are multiple software applications on the market that help create lattices, but financially these are not always accessible for everyone. That is why we have chosen to teach you a workflow in Grasshopper, which we assume that all professional 3D modelers already have.

This is a course for people that have already finished our 3D Footwear Modeling in Rhino 7 course - or have experience in Rhino through another source - and have basic knowledge of Grasshopper. If you have never done any Grasshopper at all, this is not the course for you. If you are in doubt if this course is the right fit for you, please just send us an email.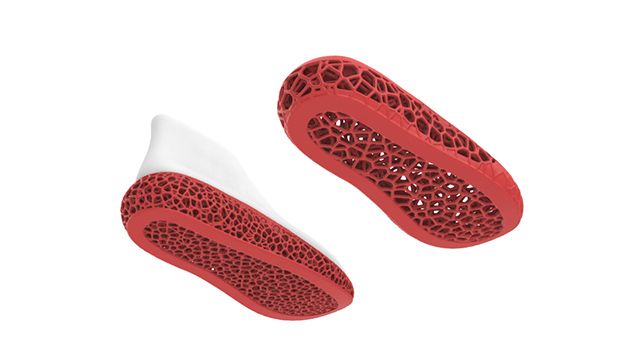 We will start by building basic lattices like these, but then we progress to personalizing these in several ways and we will experiment with (partially) covering or walling them, to prevent issues with dirt getting inside.
Who should follow this course?
This course is meant for all professional sole designers and computational designers, whether you have already been working with lattices or would like to get started on it. Since lattices are meant for 3D printing, it is also a great course for all experienced 3D designers that want to make 3D printed shoes in powder or resin.
Since personalisation is key in this training, it is very suitable as well for those working in the orthopedic industry or any other footwear segment that focuses on customisation of comfort and performance.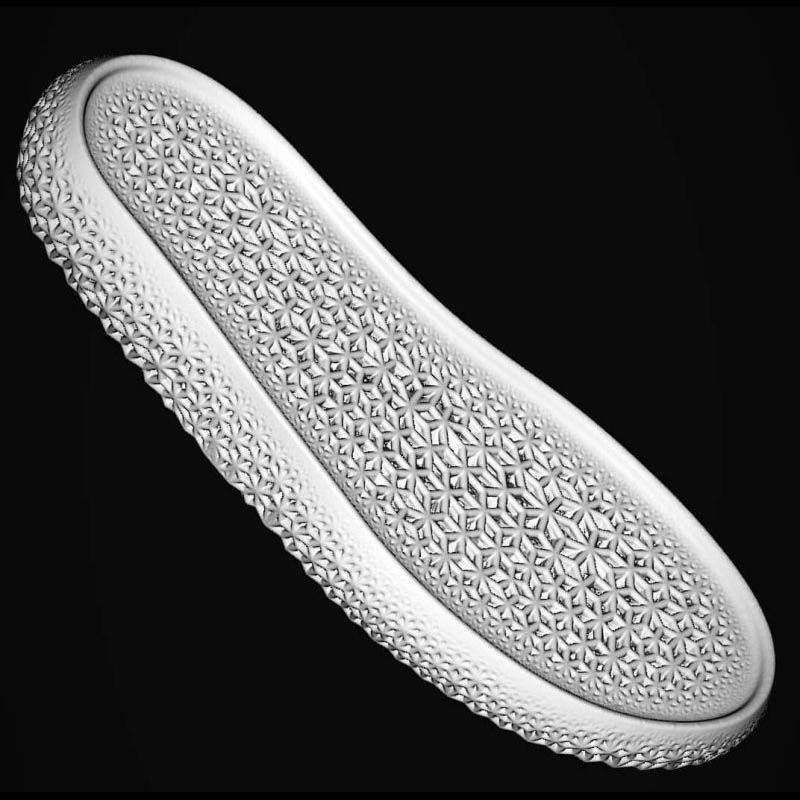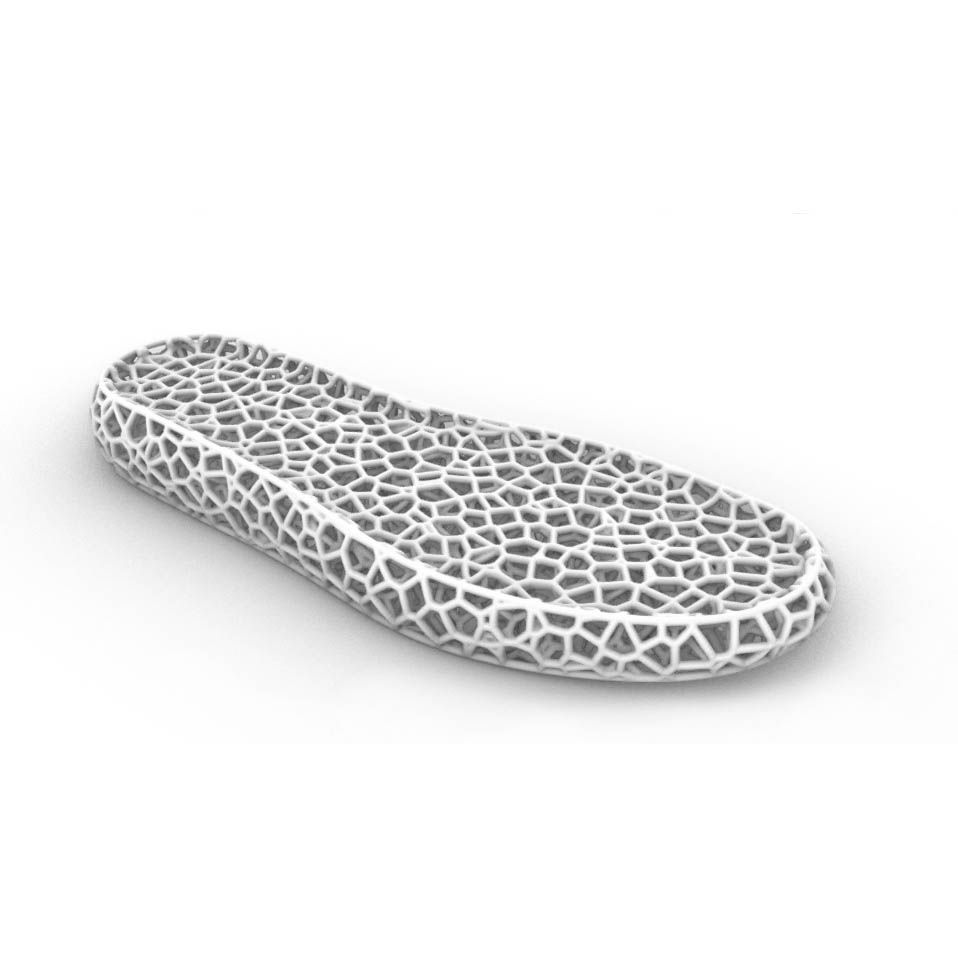 3 live online workshops of 3 hours each

access to the recordings of these workshops for 12 months

the option to ask questions to the trainers, also after the workshops

references and resources for further study

1 certification


Computer (Mac or PC) with Rhino and Grasshopper. You will receive links to necessary plugins ahead of time.
Class format: maximum of 20 participants
This is a live online class given by
Luis Bugin
, with a guest lecture by
Nicoline van Enter
. The course is quite intensive and that is why we added a break of one day, so participants can digest and do some homework then. We have a maximum of 20 participants because then we can give everyone enough personal attention in the class.
December 12: Basics of Lattice Design in Grasshopper 3D
Introduction – Luis / Nicoline – Context/Goals
Applications / Workflow Demonstration
Theory Behind LatticeStructures
Exercise 1 - Basic Examples: Voronoi x Unit Cell Lattices
Exercise 2 - Build Lattice Design Space (midsole x Shell)
Homework - Model base shape
December 13: Lattice Structures Applied to Footwear Design
Introduction – Workflow Demonstration
Theory - Conformal Lattices x Clip Voronoi
Exercise 3 - Creating Lattice for Midsole Design
Exercise 4 - Creating Lattice for Shell Design
Theory - Implicit Modeling (Voxel Modeling)
Exercise 5 - Thicken Lattice Through Voxel Modeling
Homework - "Applying Lattices to Footwear Design"
December 15:

Customization of Lattice Structures
Application – DfAM, Lightweight / Performance, Orthopedic
Workflow - Demonstration
Theory Structure Type x Material Density
Exercise 6 - Personalization based on function zones
Exercise 7- Personalization based on Pressure-Data
Exercise 8 - Personalization based on Design Features
Homework – "Applying Custom Lattices to Footwear Design"
Professional experience in footwear design is required, we are not teaching shoe design as such in this course.
You also need to have enough knowledge of Rhino and Grasshopper already, this is an intermediate to advanced level course.
Meet your instructors
Luis Bugin
Luis is a highly experienced computational designer from Brazil. He joined the team of Footwearology Lab last summer, researching data-driven design applications and additive manufacturing technologies on mass customization of footwear. He is working with lattice structures daily and is one of the leading experts on custimization of lattices.
Meet your instructors
Nicoline van Enter
Nicoline van Enter is one of the founders of Footwearology and Footwearology Lab. She is a world-renowned technology forecaster and visionary thinker, working for tech builders and brands around the world. She has been printing wearable shoes for many years already; in this course she will give her vision on how she thinks lattices could be applied better in footwear (and marketing).
During the course you will learn to create different material behaviors by programming and combining various parametric cell units.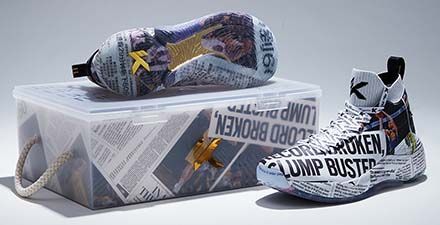 Subscribe now
Get exclusive news